Since 1992, the Maru Montero Dance Company has celebrated the joy and beauty of Latin America's dance, music and culture by teaching young and adult people, organizing festivals and giving live performances.
Today the Company offers:
Mexican and Latin American folk dance
Contemporary tropical dance, such as mambo, cha-cha and salsa
Classes for young people
Performances
Teacher Training
Diversity Workshops
Artistic Consulting
Choreography
Annual Cinco de Mayo Festival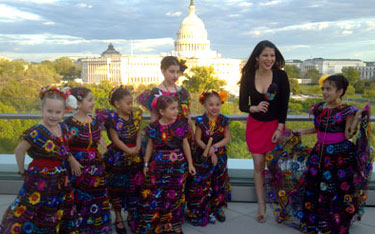 Register Now!
Enroll with the Maru Montero Dance Company today for an enriching experience that goes far beyond dance. Classes will help your child develop discipline, social and team-building skills, physical wellness, and an appreciation for Latin American Culture.
Maru brings her rich Latin heritage to her Company and the community, educating children of all ages through dance. Support Maru's mission: Education through dance, enrichment through culture!
To learn more about MMDC offerings or classes, contact us at admin@marumontero.com.
Clases for Adults
Fri @ 6:00-7:00PM
Ballet Folklorico Mexicano Classes
Register Now!
Classes Are Offered
Seber Method Academy
4908 Wisconsin Ave. NW
Washington, DC 20016
Metro Tenley Town or
Friendship Heights (red line)
Like us on Facebook