"Officially, Cinco de Mayo is a Mexican holiday, but we have turned it into a day of celebration for all Latinos living here and for all Americans who enjoy the culture," Montero said. "Our Festival is like the Latino St. Patrick's Day. That's why we say, 'On Cinco de Mayo, everybody's Latino."
Thousands gathered on the National Mall for Cinco De Mayo 2009 to enjoy the fun, free cultural celebration. A variety of musical and dance preformances along side children's crafts and delicious food drew diverse crowds. Fine arts exhibitions and the reading of the children's book, "The Best Mariachi in the World" pleasantly punctuated the day's festivities. The Main Stage offered live entertainment throughout the day, offering visitors a taste of different Latino music and dance, including Mariachis and Mexican folk dance. In the Children's Pavillion, hundreds created Personal Pinatas, Aztec-style masks, friend bracelets, flamenco fans and more. Coffee provided by our friends at McDonalds helped keep guests energized for an exciting dance contest or to play a fun game of "La Loteria", a Mexican favorite. From the first live band to the last dance preformance, the Cinco De Mayo Festival 2009 was a huge success, among many to come.
Join our mailing list to receive event updates, learn about volunteer opportunities and raffles!

Check back for schedule and updates on the 2011 Festival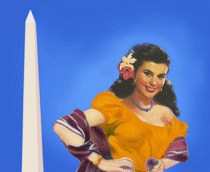 Read about previous Cinco de Mayo Celebrations:
Join our Facebook Group